BILLING FOR DME…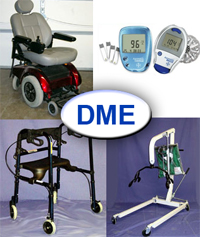 DME billing is in regard to durable medical and home medical equipment. This may also include, respiratory, enteral, mobility, orthotics and prosthetic equipment. It can also include other home medical equipment such as items needed by the diabetic, drug therapy and wound care.
Many DME providers have begun to outsource their billing procedures to a variety of companies. This has allowed the supplier to reduce staffing costs while increasing their efficiency in operations. When utilizing MedNet as your out sourced billing service; you will experience better cash flow through the proper submission of claims. We are better able to keep up with the ever changing regulations, documentation requirements and changes in billing procedures. MedNet has more information and resources to stay abreast of Medicare and Medicaid changes. This allows the supplier to not have to stress over these issues. It will also provide higher rates of successful claims and reduce those claims that have been rejected due to coding errors and missing documentation.
DME billing has long been a difficult area to deal with. Determining patient eligibility as well as having to check into deductibles and co payments required has been a daunting task for most suppliers. Determining submissions to primary and secondary insurance companies has been a nightmare for some internal billing offices for suppliers.
MedNet as your DME billing service is able to weave through these areas very successfully. We are able to deal effectively with Workers Compensation, Medicare and Medicaid and will even deal with reviews and hearings as well. Since most use electronic submission and verify all data, this will create a much faster payment to the medical practice or for those dealing with home medical equipment.
There are many companies that offer DME billing services. We invite you to call them first…. Then give MedNet a call for a free consultation to your company or medical practice. We promise that you will not be disappointed; the answer you receive will be based on over 20 years experience in the DME billing arena. Our fees are based on each individual company and their needs. Billing for DME is one of the most difficult billing areas in the medical field. Utilizing MedNet will reduce the stress of dealing with the many facets of medical equipment billing.